Markiewicz Story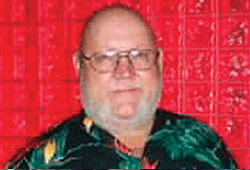 John E. Markiewicz
Jacksonville, Fla., Lodge No. 221

"You must give some time to your fellow men. Even if it's a little thing, do something for others - something for which you get no pay but the privilege of doing it." This is a quote by the humanitarian, theologian, missionary, organist, and medical doctor, Albert Schweitzer and the quote that John E. Markiewicz lives by.

John has been a member of the Jacksonville, FL., Lodge since 1981 when he was stationed there by the U.S. Navy. "Admittedly, I initially joined for the social aspects," he said. "I soon got caught up in the VA hospital visits and our state major project, which taught me what it really means to be an Elk."

Today, John is a retired from the U. S. Navy. He's the Leading Knight at his Lodge, Chairman of Veteran's Services and the ENF Northeast Florida District Chairman. Recently, John decided to join the John F. Malley Society, a society recognizing those individuals who plan gifts to the Foundation.

There are many different reasons for making a planned gift. For John, it's in keeping with his favorite Schweitzer quote. "There are so many people in this country that truly need assistance and are unable to get it through governmental or social programs," he says. "It is up to all of us to do what we can to help."

John wants to make sure that his two favorite ENF programs, The Elks National Veterans Service Commission and our various scholarships, are sustained. Being a veteran himself, he takes great pride in the veteran's programs, and he believes that this nation's youth are our greatest asset.

By leaving a gift to the Foundation, he is doing his part to make sure that veterans are not forgotten and thousands of students can have the college education they deserve for years to come. "I wanted to be able to continue to support the ENF programs after I am gone," he says. "I believe that a planned gift is the easiest way to make a major contribution to our programs, and there are so many options that make it easy and affordable."

Through the ENF, John is giving to his fellow man. He is giving, not for pay or recognition, but because of his belief in our programs and his willingness to help others in need. The ENF thinks that Dr. Albert Schweitzer would be proud.

If you are interested in more information on planned giving or joining the John F. Malley Society, contact the ENF at 773-755-4728 or email us at enf@elks.org.