Buza Story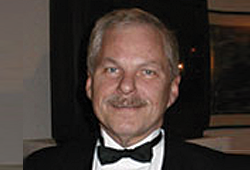 John W. Buza
Palmer, Alaska, Lodge No. 1842

Can you imagine living 6,117 miles away from your Lodge? Most Elks would say no, but it works for John F. Malley Society member John Buza of Palmer, Alaska, Lodge No. 1842. Although passion for energy moved him around the world, Buza's love for America keeps his heart at home with the Elks.

Road to Elkdom

Buza's career as a petroleum geologist takes him all over the globe, from Dallas to Nigeria. "Because of my international work, I never really put down strong roots in a community," explains Buza. "The Elks gave me that opportunity in Alaska."

While in Alaska, Buza was encouraged by his brother-in-law to join the Palmer Elks Lodge. He quickly became involved in the Lodge, but was eventually transferred to Kuwait. He soon found himself half way around the world from Palmer, Alaska, but he didn't miss out on Lodge happenings or ENF news. Buza stayed connected to the Elks on the internet.

Support from a Distance

Buza honors his Palmer Lodge roots by supporting the ENF through a planned gift. When it came time to review his will, Buza found that designating a percentage of his estate for the ENF was an easy decision.

"Leaving money to the ENF will have an enduring, good impact on society," says Buza. "I encourage everyone to consider leaving something that won't evaporate, and will serve the interests of a lot of people."

Although he was aware of the ENF when he was active in the Palmer Lodge, he learned more about ENF programs by visiting the ENF website. Buza was especially drawn to the veterans service program and ENF scholarships.

Closing the Gap

Following his time in Kuwait and an assignment in Thailand, Buza was relocated to Houston. Although he is deep in the heart of Texas, his heart still belongs to the Palmer Lodge. These days, Buza doesn't have to travel quite so far to his Lodge, just 3,268 miles.

You also may want to make it easy and convenient to have a bequest included in your will. The language link below shows how a bequest can very easily be included in your will.

You might find it helpful to print this page and the bequest language. Please feel free to give this information to your attorney. If he or she has any questions, please have them contact Kate Keating Edsey at phone number 773-755-4728 or e-mail us at KateE@elks.org.

Click Here to review sample bequest language.