Wyszynski Story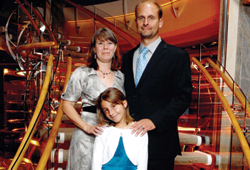 Planning Today for Stronger Communities Tomorrow

When flipping through her planner, Cindy Wyszynski can now cross off one important task-serving her community for years to come.

Wyszynski, former ENF Chair and active member of Telluride, Colo., Lodge No. 692, has seen firsthand what dedicated Elks can do with ENF funds to build stronger communities. The Lodge's projects, including Wounded Warrior Project visits and the Antlers Wilderness Education Program, inspired Wyszynski to leave a part of her legacy to the ENF by planning a gift.

A Lasting Gift

Wyszynski's generous gift will have a lasting impact on the people and places she cherishes most. "Last year, the Colorado Elks Association received $1.75 in grants for every dollar that we donated to the ENF, which assures me that my bequest will continue to benefit my Lodge, my town and my state," says Wyszynski. "It's great to know there will always be a way for me to make a difference."

An Easy Decision

When Wyszynski organized estate documents for her family last year, she decided to plan a gift to the ENF and join the John F. Malley Society. Malley Society membership is available to any Elks member who plans a gift to the ENF. "The ENF makes it very easy to join," says Wyszynski, who completed the short Malley Society enrollment form online. Not only did Wyszynski appreciate the ease of joining the Malley Society, she also has confidence in whom she is giving her bequest.

"I believe the ENF is cognizant that people give their hard-earned income in the trust that it will be distributed properly," says Wyszynski. "The ENF has handled that responsibility admirably."

Leave your legacy. For additional information about ENF planned giving, please visit www.enfplannedgiving.org. To discuss making a planned gift to the Elks National Foundation, contact Kate Keating Edsey at KateE@elks.org or 773 755-4866.