McDaniel Story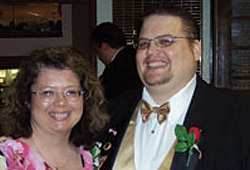 The Next Generation

By practicing free throws and participating in other youth activities, John F. Malley Society member Geffrey McDaniel learned the importance of ENF programs as a child. "As a kid I participated in the Hoop Shoot and other programs at the Lodge," says McDaniel. "I experienced the benefits of the Elks National Foundation firsthand at a young age."

Growing up Elk

McDaniel's father joined Englewood, Colo., Lodge No. 2122 in the early 1960s, so he and his brother spent a lot of their childhood at the Lodge. "I consider myself a lifetime member," McDaniel says. He joined the Order on his 21st birthday.

During his time as Exalted Ruler of the Englewood Lodge, McDaniel focused on Elks youth programs. "I got so much out of them when I was a kid. My goal is to give back and make sure that our Lodge continues to put on excellent youth programs."

Something Special

Although McDaniel is involved with youth activities and other committees at the Lodge, scholarships are his favorite program. He serves as Scholarship Chair for his Lodge and is honored to be involved in such an important process.

McDaniel's proudest moment as an Elk came two years ago during the 2009 Most Valuable Student contest?he evaluated the first-place female award winner's application.

"When we reviewed Gergana Kostadinova's application, we scored it so high that we thought it might be a mistake and had to go back and look at it a second time," McDaniel remembers. "We got it right the first time! I didn't know she would be the top winner at the time, but I did know that I had just worked on something special."

Planning for the Future

After a string of Past Exalter Rulers from the Englewood Lodge passed away, McDaniel thought about what would happen to his Lodge, the Order and ENF in the future. "I realized that I needed to do something to make sure that these programs continue when I'm gone."

McDaniel decided the best way to ensure that the ENF continued to provide programs in the future was to establish a planned gift. He made provisions in his will and joined the John F. Malley Society, the recognition society for those who have planned a gift to the ENF.

The decision to leave a gift to the ENF was easy for McDaniel. "The members who have passed, those who established the ENF and who have dedicated their lives to ENF programs, have left us to carry on," he says. "It is our duty to ensure the ENF will continue to live after we have passed."

McDaniel advises others to follow in his footsteps, saying, "I recommend including the ENF in your estate plans if you are committed to the Order and your Lodge. Why not make a commitment that will make things better for everyone?"

Wondering where to start? Talk to your financial adviser about the best way for you to include the ENF in your plans, and join Geffrey McDaniel in ensuring that ENF programs will benefit the next generation of Elks.

For additional information about ENF planned giving, please visit www.enfplannedgiving.org.

To discuss making a planned gift to the Elks National Foundation, please contact Kate Keating Edsey at KateE@elks.org or 773/755-4866.

You also may want to make it easy and convenient to have a bequest included in your will. The language link below shows how a bequest can very easily be included in your will.

Click Here to review sample bequest language.