Hammons Story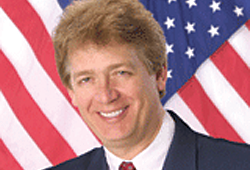 Arlie C. Hammons III
Kalamazoo, MI Elks Lodge No. 50

NBA superstars may have fame and fortune, but Arlie Hammons says that with the way the Elks treat the National Hoop Shoot Finalists, even Michael Jordan would be jealous. The Hoop Shoot is Arlie's favorite program that the ENF supports. Two years ago, Arlie traveled to the National Hoop Shoot competition to uphold his promise to a participant from his community, that if she made it to the finals he would go.

"It was a wonderful experience to watch the competition, see how well the Elks treated the kids and families, and know that I helped it get to that point," Arlie says.

Arlie didn't inflate basketballs or build courts, he made his contribution to the Hoop Shoot by actively donating to the Foundation. After hearing then GER Roger True speak at the Michigan state convention, Arlie learned of a way he could help ensure that his favorite programs perpetually endure. He designated a gift of life insurance in his will and joined the John F. Malley Society, which recognizes donors who make a planned gift to the Foundation. "Now, I am able to give a sum larger than I ever thought I'd be able to give, to go toward the good works that I have supported my entire life," Arlie says.

One of the "works" Arlie feels particularly passionate about is the Elks Veterans Service Program.

"If [veterans] didn't take care of our country, who knows where we would be. We are forever indebted to anyone in uniform. It's important to give thanks-I can't say that enough."

Supporting the program provides an avenue for Arlie to display his gratitude and honor the men and women who have fought for his freedoms. Arlie takes pride in actively participating in the philanthropic spirit of the Elks. He admits that his Lodge's golf course motivated him to join the Elks 18 years ago, but it didn't take long for him to realize that he joined "a wonderful, charitable organization."

Arlie believes that all Elks give, whether they're offering time or money, but a bequest to the Foundation allows your giving to continue indefinitely.

To anyone who is considering making a planned gift, Arlie says, "Don't wait, do it now. Tell your friends and family what you're doing and invite them to join you. Tell them why it's important to you."

By joining the John F. Malley Society now, Arlie finds comfort in knowing that things will be taken care of after he's gone.

"I hope the ENF can take care of every child, every veteran who is lonely and continue to put a smile on a kid's face when they're shooting a basketball."