Lester Story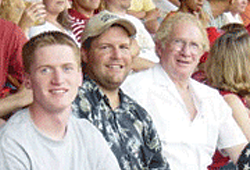 Charles W. Lester
Wichita, Kan., Lodge No. 427

Taking a road trip with Charlie Lester would make anyone happy. The former State President and PER from Wichita, Kan., never travels without a tape of Zig Ziglar's motivational messages and a smile. Donating to the Elks National Foundation and leaving the ENF in his estate plans, allows this optimism addict to get his fix.

"The more I give to the Foundation, the better I feel," says Lester. "It makes me feel good to do something for someone else."

In 1980, Lester's late wife, a Permanent Benefactor of the ENF, paid his dues to join the Elks. She wanted a place where they could dance. Four years later, he offered to serve as his Lodge's Tiler and a year later, he became his Lodge's ER. Today, Lester's leadership resume trumps his dance repertoire. He's most proud of his position as state president; he says it wasn't a job but an honor. Working as a chair for ENF's Most Valuable Student scholarship program has kept him busy while renewing his faith in youth.

"On TV, you hear nothing but bad things about youth," says Lester. "But when I judge scholarship applications, I see how many good kids are out there. ENF scholarship recipients speak like accomplished doctors and lawyers. You know they're going to do well in life."

Positively Programs

Foundation-funded programs touch Lester's life whether he's at home or on the road. Every year around the holidays, he teams with the Kansas state major project KETCH, which provides training for people with disabilities. He locates clients in his area and decks their homes with poinsettias. He also helps out with his local Hoop Shoot contest and every year since 1993, has traveled to Denver, Colo., for the regional competition.

"When kids have access to a basketball court, they learn about determination and resolve," says Lester. "The constant practice gives them pride whether they hit or miss."

Because of his devotion to Elks programs, Lester decided to designate in his will a percentage of his net worth to the Foundation. This way, he can ensure that for years to come, people can be inspired by the intellect of scholarship recipients; the compassion of community projects; and the courage of free throw shooters.

"On an annual basis, I can only donate what I have available," says Lester. "But when I'm gone, I'll have more resources to give."

A Hopeful Outlook

In 2002, Lester became a member of the John F. Malley Society, which recognizes donors who plan gifts to the Foundation. "I've always been real partial to the ENF, and everyone's got to give something back. You can't just take and take."

By making a planned gift, Lester hopes the Foundation can one day provide even more deserving students with a college education. The gift is his way of reminding people that despite facing bumps in the road of life, with a positive attitude and a little generosity, anything's possible.

"Life might not be beautiful every day, but it always works out," says Lester. "If I can help more kids along the way, I've accomplished something."

You also may want to make it easy and convenient to have a bequest included in your will. The language link below shows how a bequest can very easily be included in your will.

You might find it helpful to print this page and the bequest language. Please feel free to give this information to your attorney. If he or she has any questions, please have them contact Kate Keating Edsey at phone number 773-755-4728 or e-mail us at KateE@elks.org.

Click Here to review sample bequest language.