Howard and Violet Ziebell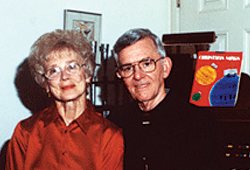 Howard and Violet Ziebell
Florence, OR. Elks Lodge No. 1858

One of the last words you expect to hear from a guy who made his living in the dry-cleaning business is greaser, but there it is: "Every Lodge needs a couple of skid greasers."

Howard Ziebell may be a cleaner, but when it comes to getting things done for a good cause, he's not afraid to get his hands dirty. "I try to make a difference in a positive way," he says.

Howard and his wife, Violet, have been making a difference at Florence, Ore., Lodge since Howard joined eight years ago. He's now the new co-chair of the Lodge's ENF Committee and continues to serve as a backup photographer for the Lodge and state association. He's also the state's organist. "My proudest moment in Elkdom has to be when [then-State President Tony Crawford] asked me to be state organist," he says.

While it may not be as prestigious, or formal, as being state organist, Howard takes his role as a Lodge facilitator, or "skid greaser," seriously. "Things have to get done," he says.

Howard is matter of fact about his service to others. The cost of education and veterans' service are increasing rapidly, he figures. "There just has to be some help from philanthropy," he says. "This is the country we live in and the organization we belong to. Helping others is what we do."

The Ziebells feel that one of the best ways to help others is through gifts to the Elks National Foundation. "To me," Howard says, "the Elks National Foundation is the capital B in BPOE."

He gave his first gift after learning about the Foundation at his indoctrination. "I remember the pain that I endured 50 years ago when I ran out of funds in college," he says. "It didn't take much convincing to determine that donating was really the right thing to do."

Knowing his gifts will help fuel educational journeys makes him smile inside. And while the Foundation provides the fuel, he feels its donors are a source of enthusiasm and inspiration. He has watched a number of Most Valuable Students participants advance through local, district and state competition and has had the opportunity to talk with some of them.

"Their transformation into adulthood is remarkable," he says. "I don't see how this could possibly happen without the Most Valuable Student program. They are our future, and when you watch them interact with each other and also with adults, it is obvious that something very special is happening, and the Elks are a part of it."

The opportunity to meet and talk with Most Valuable Students would open a lot of eyes, he says. "There can never be any doubt whatsoever about the hope and enthusiasm the program instills in these young adults and their parents."

Recently, while attending an ENF ball at Florence Lodge, Howard was struck with another way his donations are helping, a way he had never considered. Howard had attained the Silver level of giving in the Foundation's cumulative recognition program, and he received his recognition that night. Later, a fellow Elk whom he did not know told him that the award and the donations it represented could one day save his life. The man's point was that some ENF scholarship recipients undoubtedly would go on to become doctors who would save lives, perhaps even his.

So, Howard Ziebell, the cleaner whose hands are dirty with good deeds, is proud of what his gifts are doing and looks forward to talking to prospective donors in his role as Lodge ENF co-chair.

"You will never make a better investment in our future," he says. "Your gift, no matter what size, continues to work year after year toward its intended purpose of providing help. That gives me and my wife a feeling that we are an extension of Mr. [John F.] Malley's original intent 75 years ago," he says, referring to the Foundation's founder.

He expects the Foundation to practically sell itself. But if he needs to grease any skids, he'll be ready.