Markee Story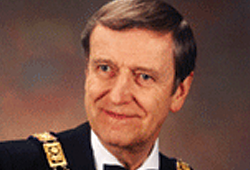 John E. Markee
Cicero-Berwyn, Ill., Lodge No. 1510

"Scholarships." If you forced John Markee to pick one reason to support the Elks National Foundation, that's what he'd say. But the truth is, he supports the Foundation because it funds so many programs that are dear to his heart.

"Compare the Foundation's work with any other charity," says Markee, a PER and Trustees chair from Cicero-Berwyn, Ill., Lodge No. 1510 and the ENF chair for the North District of Illinois. "No other charity measures up."

Even within Elkdom, he believes strongly that the best way to support Elks programs is through a gift to the Foundation. "I served in World War II and Korea," he says. "I love our veterans program. I love our Crippled Children's Program [the state major project]. But when you give to them, it stays there. When you give to the Foundation, you help those programs and the Hoop Shoot, which I also love, and Drug Awareness. You help them all. ? You get so much more bang for your buck with a donation to the Foundation."

But for Markee, who spent 41 years volunteering and working for the Boys Club of Cicero, the Foundation's scholarship programs are the biggest bang.

"I met so many kids through the Boys Club," Markee says. "So many of them had great potential but never went anywhere because they didn't have the chance. They didn't have the funding to go to college.

"There are good, intelligent kids out there who could be world leaders if they only had a chance," Markee continues. "The Most Valuable Student program is designed to find those kids. Our program finds those kids who otherwise would never get in the front door."

Markee is so committed to the work of the Elks National Foundation that he decided to include it in his will. In February 2003, he joined the John F. Malley Society, which recognizes people who share the philanthropic vision of the Foundation's founder.

"I've always been philanthropic with my time," Markee says. "There are things that need to be done for free, and I just get involved with them. If a program looks good to me, I jump in. I don't think you should let a day go by without doing a good deed. Now, I am at a point in my life where I can be philanthropic with my money, as well.

"By including the Foundation in my will, I can leave a legacy that will help give young kids a chance," Markee concludes. "It will help young kids get an education and become leaders in whatever endeavor they choose to pursue, kids who would not have received a college education without our help."

A lot of people take chances. John Markee gives them.

If you are interested in more information on planned giving or joining the John F. Malley Society, contact the ENF at 773-755-4728 or email us at enf@elks.org.

You also may want to make it easy and convenient to have a bequest included in your will. The language link below shows how a bequest can very easily be included in your will.

You might find it helpful to print this page and the bequest language. Please feel free to give this information to your attorney. If he or she has any questions, please have them contact Kate Keating Edsey at phone number 773-755-4728 or e-mail us at KateE@elks.org.

Click Here to review sample bequest language.